Tired of the same old boring home decor?  Here are some interesting home decor ideas that are not only out of the ordinary, they're amazing and fun!
Do you dare try any of these?
Defendius Labyrinth Security Lock
This might be a fun way to help secure your home but it might also keep you in!
Forest chandelier
A forest chandelier definitely makes some interesting decor on your walls.  Designed and inspired by drawings, this shadowy design turns your room into a forest. How do you like the piece?
Stair drawers
 Who doesn't need more space? This is an excellent idea for finding storage that you already have.  Stairs can be such a waste of space, why not utilized them?
Beer bottle chandelier
This beer bottle chandelier would be a pretty cool man cave idea. It could also be a pretty fun DIY project, however there are many of them you can buy.  I love the idea of saving beer bottles. Could be cool for wine bottles too.
Here's a way to add functionality as well as character to your home decor. Wouldn't this be a fun piece to add to your outside bar for a fun summer night party?

The Acquarium Bed
If you love the ocean this might be for  you.  It's a peaceful, intriguing way to fall asleep and enjoy the beauty of nature.
Giant Bird Nest Bed
What a great idea for a kids room, or for an adult. And if you love nesting in pillows this is the ultimate pillow nest
Beach Sand Under The Work Desk
Give yourself the pleasure of working on the beach right in your home.  Just be sure you have a vaccuum on hand for all the sand you'll be tracking everywhere.

Hammock Over The Stairs
Now here's one of those interesting home decor ideas that's hard to resist. It's fun, daring and you won't find it everywhere.
Lego Kitchen Island
Gotta love color with the bright and zesty lego kitchen island. Talk about a conversation piece. This will get them talking.

Wine and Glasses Racks 'Z' Style
Here's a unique way to add some pizzazz to your home decor. It's different, functional and sure to create an eye-catching display.
old tower clock window
Love this clock window. It's attractive and functional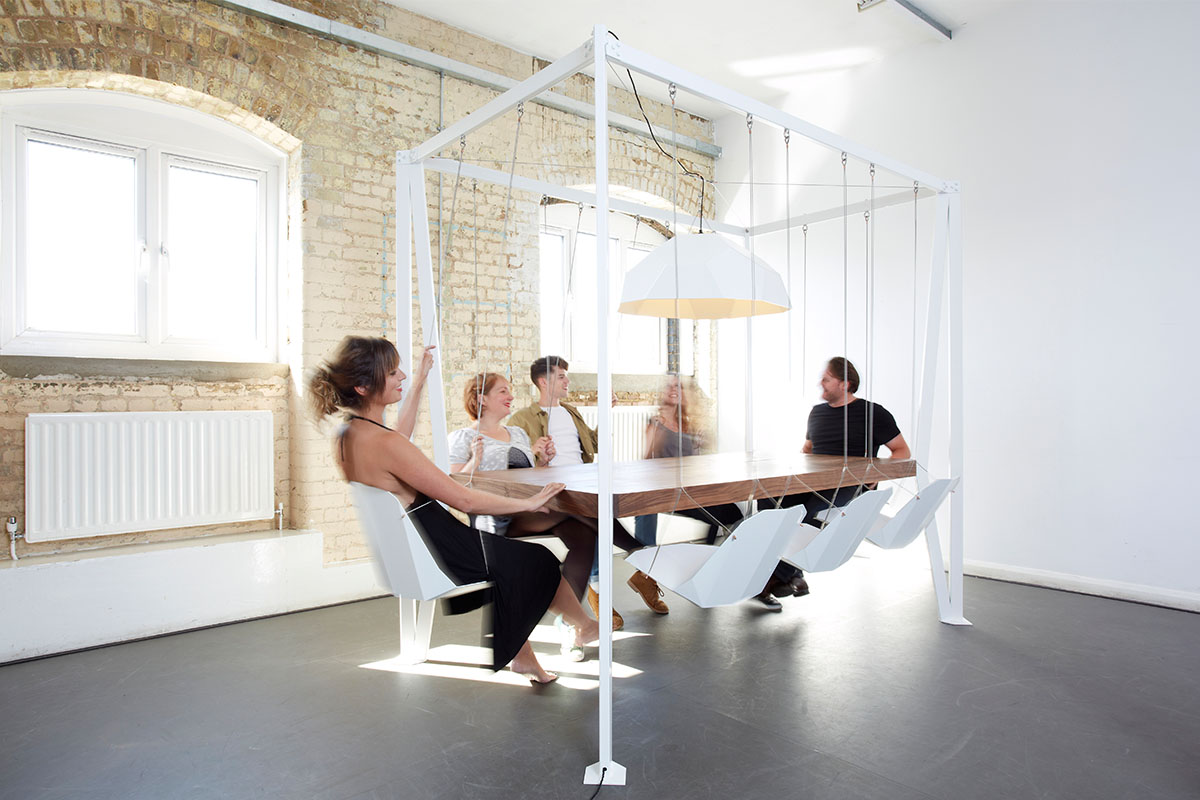 Swing Set Dining Table
What family wouldn't love a swing set in their kitchen. It's fun, comfortable and a great way to get the whole family to the table.
Cave Bedroom
If you loved the Flintstones, this one's for you.  Just make sure your bed isn't made of stone as well.
A birch tree bed
Something you might see in a Frank Lloyd Wright home. If you love being back to nature, this could be a fun one.
So there you have it folks.  Your home decor can be quite invigorating. Just make sure you choose things that you enjoy and decorate with what you love. After all home decor doesn't have to be boring.